Mobile Tyre fitting in Warrington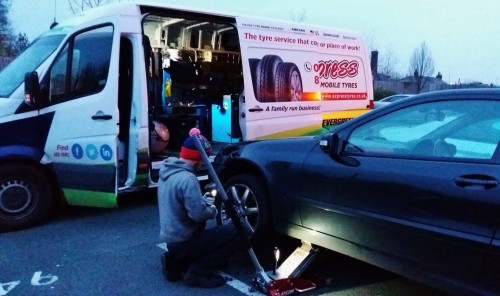 Mobile tyre fitting is becoming an increasingly popular way to have your tyres changed, fitted or repaired. Mobile tyre fitting saves having to take time to make the journey to the garage.

Whether you're at home, at work or stranded on the road side, mobile tyre fitting services will come directly to you. We offer an efficient, convenient and cost-effective answer to all kinds of tyre problems.
Here at Express Tyres in Warrington, we offer a first class mobile tyre fitting service
Its convenient
If you find your tyre is damaged or punctured and requires repairing or replacing, it can be an extremely inconvenient task to undertake. Whether you're at work trying to schedule in a suitable appointment time, about to embark on a weekend trip away or you're a busy parent trying to juggle children and housework, a trip to the car garage is the last thing you want to do.
So, instead of taking valuable time out of your day, why not ask a professional tyre fitter to come to you? Mobile tyre fitting eradicates all the stress of organising an appointment, getting there and back and having to wait while the maintenance work is being done – all you need to do is check in with the fitters at the beginning and the end, leaving you to get on with your day while they work.
We offer a fast emergency service
Being stuck on the side of a road with a deflated or damaged tyre is most people's idea of a nightmare. But if you find yourself in the rush hour traffic desperately attempting to change a tyre or wishing you had kept a spare handy, don't panic; simply call a mobile tyre fitting company to provide swift and effective solutions! Most mobile tyre fitters will offer emergency call-out services around the clock and will send someone directly to your location – whether you are at home, work or on the road side.
Its safer
If you notice damage on your tyres, it may be tempting to carry on driving or attempt to make it to the garage yourself for a quick, expert opinion. However, tyre problems can make this incredibly dangerous and, instead of risking going back out on the road, why not call an expert out to you?
A mobile tyre fitting service will come direct to your location as swiftly as possible, meaning you don't have to drive anywhere, drastically enhancing your road and vehicle safety levels.
It is cost effective
Mobile tyre fitting is a very cost-effective option when undertaking tyre repairs or replacements. Firstly, you don't waste money on fuel getting to and from a garage. Instead, an expert will come straight to you at a location you deem the most convenient.
Secondly, you avoid costs incurred with any time spent out of your day – for example missing an afternoon of work or paying for a babysitter while you wait for the tyre fitting appointment to be completed.
Mobile tyre fitters will come to you – wherever you are – and are equipped with the knowledge, skill, experience and equipment necessary to conduct tyre repairs and replacements efficiently and effectively, ensuring professional results every single time.