Sidewall Codes
Every tyre shows information relating to its manufacturer, size, and pattern. Below is an explanation/example of the numbers you will find on the sidewall of your tyre.
175/65/R14 82T
175

– Width - the tyre has a nominal section width of 175 millimetres

65

– Profile - the sidewall height is 65% of the tyre's nominal section width

R

– Radial tyre

14

– Diameter - the tyre fits a 14" diameter wheel

82

– Load Index – the load capacity of the tyre is 475 kg (see table below)

T

– Speed Rating - the tyre is rated to 118mph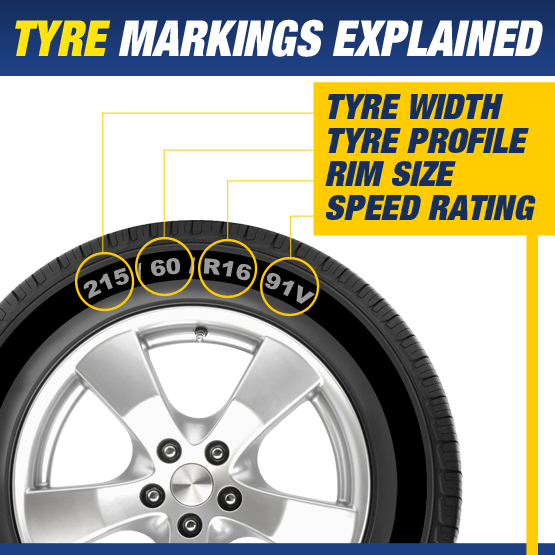 Other speed ratings include:
N = 87 mph
P = 93 mph
Q = 99 mph
R = 106 mph
S = 112 mph
T = 118 mph
H = 130 mph
V = 149 mph
Z = Over 150 mph
W = 168 mph
Y = 186 mph
Reducing the percentage of the sidewall height to the tyre's nominal section width will enable tyres to be wider and put more tread on the road.
You should always replace a tyre with the same or higher speed rating. Generally, the higher the speed rating, the better the quality and technology of the tyres. This will improve the grip, cornering capability and braking adhesion. It is also recommended that you have the same tyre brand on all 4 tyres. Your insurance can be void if you have the incorrect load index or speed rating for your vehicle.
RF or XL seen on a tyre or within a description stands for reinforced or extra load tyre. This means that each tyre needs to be capable of carrying a greater load capacity than that of a standard tyre of the same size.
The Load Index states the load capacity of each tyre. The table below shows the payload that each index can carry.
Load index
Load in kg
Load index
Load in kg
Load index
Load in kg
62
63
64
65
66
67
68
69
70
71
72
73
74
75
76
77
78
79
80
81
82
83
265
272
280
290
300
307
315
325
335
345
355
365
375
387
400
412
425
437
450
462
475
487
84
85
86
87
88
89
90
91
92
93
94
95
96
97
98
99
100
101
102
103
104
105
500
515
530
545
560
580
600
615
630
650
670
690
710
730
750
775
800
825
850
875
900
925
106
107
108
109
110
111
112
113
114
115
116
117
118
119
120
121
122
123
124
125
126
950
975
1000
1030
1060
1090
1120
1150
1180
1215
1250
1285
1320
1360
1400
1450
1500
1550
1600
1650
1700