Tyre Labelling Explained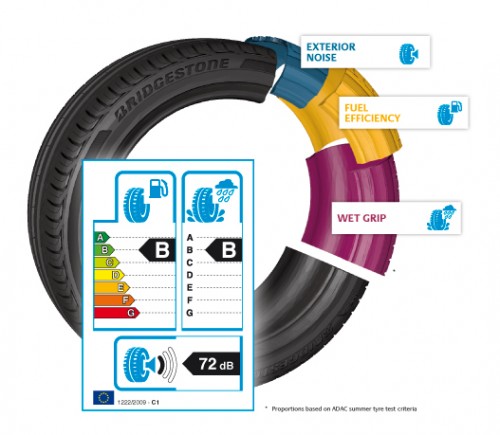 As of 1 November 2012, all passenger tyres sold in the European Union must be labelled with an official EU tyre label.
This label contains information about three important criteria that form the basis for evaluating tyre performance: wet grip, fuel efficiency and exterior noise.
The rating goes from green A (best) to red G (worst). And external noise is measured in decibels (dB).
The label itself looks very similar to the one that household appliances have. The aim is to provide drivers with enough objective, and reliable information to make an informed decision when buying new tyres.
Fuel efficiency
This label relates to a tyre's rolling resistance. It measures the amount of energy lost when a tyre is rolling, which is affected by the day-to-day wear and tear.
Tyres which have lower rolling resistance tend to provide better fuel efficiency. Thus receiving a better energy rating.
Wet grip
The rating of the Wet grip label is based on stopping distances in wet conditions. In the real world, stopping distance is affected by a number of factors, but the main ones remain tyre grip and tyre pressure.
Tyre manufactures have the difficult job of balancing rolling resistance, which affects fuel economy, and road grip, which affects stopping distance.
External noise
The External noise rating is measured in decibels (dB) and was introduced to help drivers be more aware of noise pollution generated from a tyre. The goal is to reduce noise from road transport. It's represented with black sound waves, starting with one for the lowest noise level.
Driving with quieter tyres is not only better for those around you, but it also reduces cabin noise making your journey more pleasant.